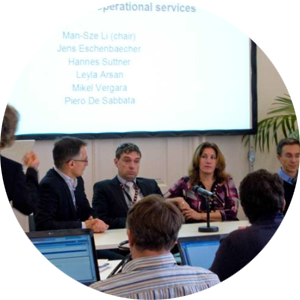 COIN
Enterprise Collaboration & Interoperability
COIN has developed a layer of software which allows European SMEs aggregate and synchronise their services with services offered by other companies. Interoperability and cooperation are key issues the projects addresses in response to the more and more demanding and complex business environments and current global market trends.
---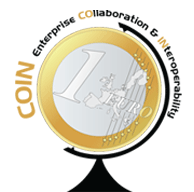 Coordinator:
TXT e-solutions S.p.A. (TXT).
Partners:
TXT e-solutions S.p.A. (TXT)
Teknologian Tutkimuskeskus VTT (VTT)
Institut Jozef Stefan (JSI)
IC Focus Limited (IC FOCUS)
ATOS Spain S.A. (ATOS)
Associazione Esoce Net European Society of Concurrent Engineering Net (ESOCE)
Consiglio Nazionale Delle Ricerche (CNR-IASI)
Universitaet Innsbruck (UIBK)
Siemens Aktiengesellschaft Oesterreich (SIEMENS)
Technische Universitaet Wien (TUV)
Soluta.net SRL (SOLUTA)
Fundación Tecnalia Research & Innovation (TECNALIA)
Stiftelsen Sintef (SINTEF)
Deutsches Forschungszentrum Fuer Kuenstliche Intelligenz GMBH (DFKI)
Bremer Institut Fuer Produktion Und Logistik GMBH (BIBA)
Ingeniería y Soluciones Informáticas S.L. (ISOIN)
Poyry Forest Industry OY (POYRY)
Interactive Net Design Kereskedelmi Es Szolgaltato KFT (IND)
Ven Process Limited (VEN)
Societa Finanziaria Laziale Di Sviluppo – FI.LA.A. S.p.A. (FILAS)
Gospodarsko Interesno Zdruzenje Acs Slovenski Avtomobilski Grozd (GIZ ACS)
Poyry Finland OY (POYRY)
Universitatea Politehnica Din Bucuresti (UPB)
Favit Network EOOD (FAVIT)
Wirelessinfo (WIRELESSINFO)
Lojistik Dernegi (LODER)
Kauno Technologijos Universitetas (KTU)
University of Cyprus (UCY)
Fundacion European Software Institute (ESI-TECNALIA)
ATOS It Solutions And Services GMBH (ATOS-AT)
Funding program: FP7.
Development lines: ICT.